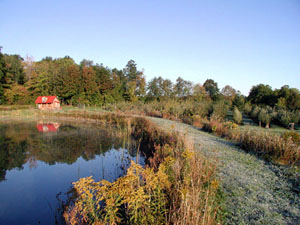 Welcome to…Black Diamond Farm, source of the most distinguished, tasty fruit available locally or long-distance. In addition to our specialty heritage apples, we also produce Black Diamond Cider – a line of craft hard ciders made entirely from apples grown on the farm. During the summer months we also grow cherries, blueberries, apricots, peaches, plums, pears, and grapes.
In the heart of the Finger Lakes region of New York, our farm in Trumansburg is adjacent to the Black Diamond trail. The area has a long rich history of apple growing. Despite our small size, we're growing some of the most exciting new varieties and many treasured 'heritage' apple varieties. Practicing IFP (Integrated Fruit Production), we take pride in producing high quality fruit selected for excellent and unusual tastes.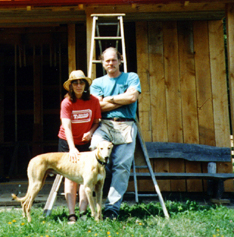 We're a small family operation. Ian and Jackie Merwin own the orchard and get the work done with a small, dedicated, and capable crew.
There's a small section of the orchard devoted to antique Fench and English apples grown for traditional hard cider blends. They have great names like Brown Snout, Magog Redstreak, Dabinett, etc. Cidermakers interested in buying cider varieties may touch base with us at: blackdiamondfarm@gmail.com.